exhibition / music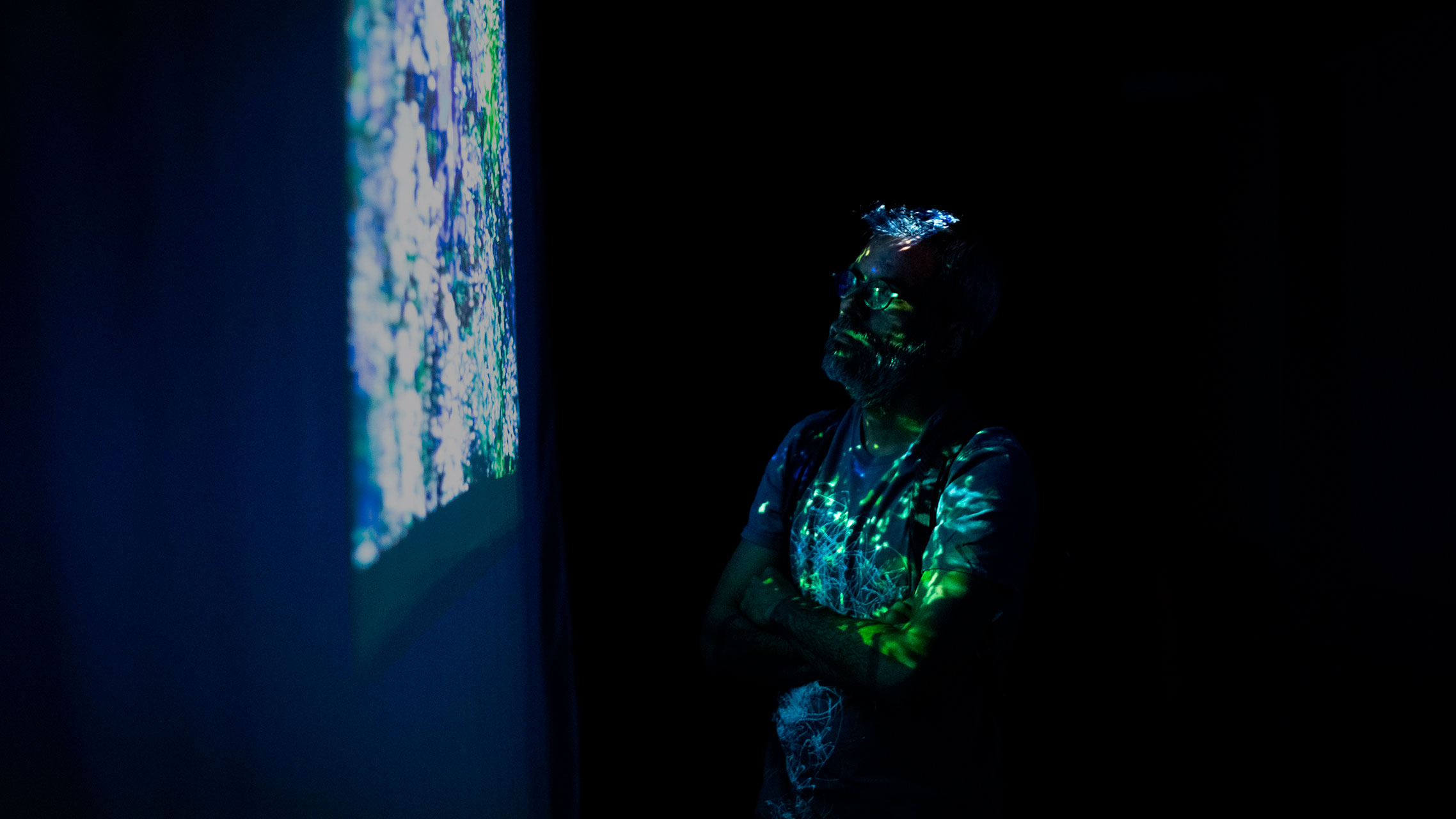 pós-laboratórios de verão 2023
With the aim of promoting artistic creation in the district of Braga, gnration, in Braga, and the Centro Internacional das Artes José de Guimarães (CIAJG), in Guimarães, have joined forces for the ninth edition of the support programme for artistic creation Laboratórios de Verão. Created in 2015 by gnration, this initiative is aimed at artists or collectives living or coming from the district of Braga, who propose to develop new artistic content in the fields of image, sound, performance, interactivity, music, dance, or the intersection between the areas previously described. The projects will be developed in an artistic residence format in the two structures, during the summer, and will be publicly presented, in a performative or installation/exhibition format.
A mais inábil candura, ia video installation by Bárbara Fonte, presents a succession of performative actions filmed in a studio; the interactive installation, which uses a computer game, HIC SVNT SERPENS, created by Lucas Carneiro and Manuel Costa; Pintura Imaterial, by Cláudia Cibrão, a visual installation that deals with the concepts of ownership and projected shadow; and Improvisação em duas vias, a performance installation of acousmatic pieces created by the experimental duo Guache, are the four projects selected for Laboratórios de Verão 2023. 
The four projects will be publicly presented, at gnration, in Pós-Laboratórios de Verão exhibit. 
programme
friday
hic svnt serpens, por lucas carneiro e manuel costa · instalation · sala de formações
pintura imaterial, por cláudia cibrão · instalation · sala de reuniões (2.º piso)
a mais inábil candura, por bárbara fonte · instalation · galeria um
improvisação em duas vias, por guache · instalation · blackbox
improvisação em duas vias, por guache · performance / music · blackbox · 22:00
saturday
hic svnt serpens, por lucas carneiro e manuel costa · sala de formações
pintura imaterial, por cláudia cibrão · instalation · sala de reuniões (2.º piso)
a mais inábil candura, por bárbara fonte · instalation · galeria um
improvisação em duas vias, por guache · isntalation · blackbox
improvisação em duas vias, por guache · performance / music · 16:00
 sunday
hic svnt serpens, por lucas carneiro e manuel costa · sala de formações
pintura imaterial, por cláudia cibrão · instalation · sala de reuniões (2.º piso)
a mais inábil candura, por bárbara fonte · instalation · galeria um
improvisação em duas vias, por guache · instalation · blackbox
improvisação em duas vias, por guache · performance / music · 16:00